5 Extravagant & Luxurious Venues for a 360 Photo Booth in Detroit
Ford House
One of the newest and definitely exquisite venues in the Metro-Detroit area for corporate events, client events and staff events of an elegant nature is the Ford House. 
The Ford House promises award-winning cuisine, served by an expert staff in a sophisticated environment that facilitates socializing, mingling and mixing. 
It also boasts spectacular views of Ford Cove. 
You'll want to have a look at this venue if your party has a need for tasteful opulence. It would be an ideal place for your 360 photo booth event where your guests will experience elegant fun!
Detroit Historical Museum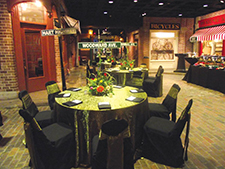 Not to be outshone by any event venue, and providing a most unique experience is the Detroit Historical Museum. This extravagant venue can accommodate a 360 photo booth event. 
It's located in Detroit's Midtown Cultural Center. There are several exhibits such as the Streets of Old Detroit and America's Motor City that your guests will also enjoy while at the party.
The Detroit Historical Museum has a variety of private spaces, but also the option to set your party up throughout the entire museum. That's a great option if you're planning for a large guest list. The Museum is able to accommodate up to 1,000 guests.
Think of the fun your guests will have with the 360 photo booth set up either in your small private party space or a few 360 photo booths set up throughout the museum!  
If you're looking for an unique place for your 360 Photo Booth in Detroit this could be it!
The Skyline Club
The Skyline Club first opened in Detroit in 1988. It has catered to Detroit's businesses and provided social and event services in the Metro-Detroit area for over 30 years.
It offers an beautifully upscale atmosphere that's best suited to corporate events, weddings and any celebrations where fancy & fun come together such as costume parties, themed parties, holiday parties, etc.
he club has lovely event rooms with great views and an expert staff, your 360 photo booth events will be the perfect memory maker to any event you host there.
Roostertail
Roostertail bills itself as Detroit's Top Event Venue.
They provide beautiful rooms and an expert staff for weddings, corporate events, proms, graduation parties, anniversary parties, non-profit events and so on.
They are all about the luxurious experience too, they feel right to bring on the glitter & glitz that appeals to many of today's parties.
Although at first glance they appear to be more suited to the larger guest lists, they actually provide opulent and lavish venues for guest lists of 20 all the way up to 1500. 
They are well known for their ability to create the perfect party atmosphere for young adults and teens, and currently host 1/3 of Detroit's proms.
They're full service as well. Whenever you're planning a larger 360 photo booth event you should consider them. 
Detroit Circle Center
If you're looking for an adult birthday party venue, you might want to look at the Detroit Circle Center.
In fact, they could be ideal for a variety of events, including weddings, graduations, conferences, and special events. Just about any 360 photo booth event could work in this luxury venue.
The Detroit Circle Center is able to scale up or down to accommodate your needs.  Whether you have a large guest list or a small and more intimate event, such as a 50th Anniversary party, they can be a good choice. Also, if you're using a DJ they've got a 16-foot performance stage in one of the event rooms. How about their VIP Lounge that they've incorporated into one of their event spaces? That could be the perfect spot to set up the 360 photo booth for your guests!
Want more information on the SPINABOOTH 360 photo booth before your next event? 
Click Here.